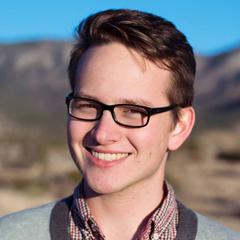 Paul Graeme Thomas began playing piano at age 8, though his affinity for music began much earlier. He continued to take lessons throughout middle and high school, and ultimately enrolled in courses at the University of New Mexico, where he studied with the pianist Falko Steinbach. Paul won the MTNA Young Artist State Competition on multiple occasions, and has represented New Mexico at regional competitions in Phoenix and Honolulu. During the summer months of 2012-2016, he accepted his teacher's invitation to participate in the Lindlar International Klavierfestival in Würzburg, Germany. This led to a semester aboard at Würzburg's Hochschule für Musik.
An active soloist, Paul is also a budding church musician. He worked as a music associate and eventually the interim music director at St. Luke Lutheran Church in Albuquerque, NM for two years, gaining experience as an organist and choir conductor. In 2016, Paul graduated from UNM with a Bachelor's of Music degree, and in the fall of 2017 he began pursuing a Master's degree at the University of Missouri–Kansas City Conservatory with renowned pedagogue Robert Weirich. In addition, Paul is an avid accompanist and chamber musician; most recently, he was a recipient of a graduate assistantship at UMKC as a choral accompanist, and rehearses and performs with three of the student choirs.
Paul enjoys performing the works of Bach, Schumann, Brahms, Scriabin, and Messiaen; his joy of sharing music continues unabated. In his spare time, he enjoys watching movies, hiking, and playing board games.